Colorado Springs, CO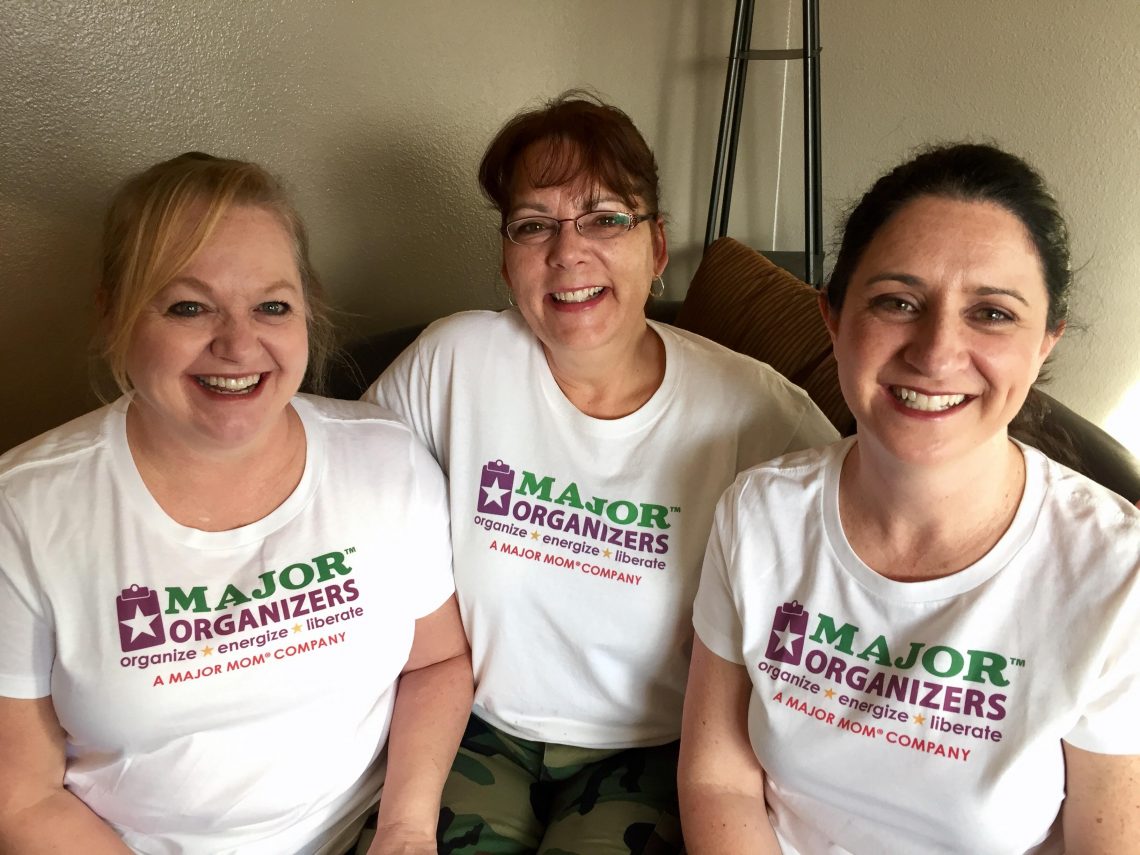 Locally Owned & Operated by Organized 4 Life, LLC as an authorized franchisee of Major Organizers.
This team of professional organizers serves the greater Colorado Springs area from Fountain to Monument. Appearing in the local newspaper online and in print, the team has been introduced to the city several times in the Gazette. Most recently, the three Liberators appeared on FOX21 weekend news. These Liberators also serve the community in various ways through speaking engagements, teaching organizing workshops, volunteering, and donating their time to those in need. Cathy, Leisa, and Cindy were born to organize and have a heart for busy families. Cathy has a Business degree and served in the ministry before joining Major Organizers. She received her Board Certification for Professional Organizers (CPO) in 2014. Leisa has two Masters degrees and also serves in the school system teaching in Special Education. Cindy has over a decade of experience in law enforcement as a 911 Operator/Dispatcher. All three are moms themselves and care deeply about the people around them.

---
TESTIMONIALS
---
My office was a jumbled mess! Cathy arrived to save the day. She not only helped me organize the space but she helped teach me how to use the space, what to keep, what to shred or toss, and when. She was inspiring with her disciplined approach to helping me solve my problem. Money well spent!
Cindy J.
Colorado Springs
---
Cathy was exceptional! She really helped me stay on task – which is important because I have ADHD. She listened to my vision and helped make our home work with our energy. Thank you a million times. I will definitely recommend Major Mom to all my friends and family in addition to using them again for the rest of my home.
Jazmin S.
Schriever Air Force Base, Colorado Springs, CO. Student/SAHM
---
I
just want to take a minute to express my sincere appreciate to Cathy and Saundra for their help in getting my spare room unpacked and organized. They have an amazing work ethic and pleasant personality. They were very professional and understanding when it came to my deciding what went to which pile. I would recommend them to anyone.
S. Isaman
Colorado Springs, CO. Secretary
---
The service was outstanding. Both girls (Cathy and Jessica) were the best of the best. Both me and my wife are extremely happy with the service and feel in our case it was a life saver. Would recommend to anyone. Thank you, thank you.
Fred & Nancy Wells
Colorado Springs. Retired.
---
I chose to call Major Mom because I knew I would need help staying focused and on task with one project area at a time. Cathy and I worked well together to sort through items easily and put things in categories for storage and easy access.
Lisa Z.
Colorado Springs
---
I am thrilled that my basement storage is finally organized and has a system! Cathy did an excellent job pulling it all together and was a joy to work with. I look forward to calling Major Mom for future projects.
Vicki S.
Colorado Springs
---
I

am

so overwhelmed by my two storage bins that I knew I needed extra help and support to go through so many household items. Cathy and I clicked right away and worked fast, organized and it was positive. I did not cry once through the whole experience!




Linda Walshlager
Colorado Springs
---
I called in order to jumpstart my home organizing before moving. Cathy was awesome and gave me the direction I needed! I was overwhelmed before and she knocked out the trouble spots!
Sarah R.
Colorado Springs, CO. Military member.
---